MP Locums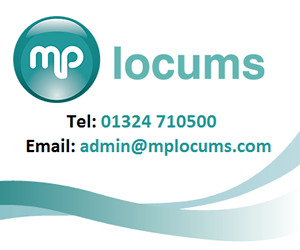 Phone Number: 01324710500
Address: Haypark Business Centre, Marchmont Avenue, Polmont, Falkirk, FK2 0NZ
Website: http://www.mplocums.com
MP Locums Healthcare Ltd (Trading as MP Locums) is an experienced recruitment agency specialising in the supply of temporary medical locum staff and GP's throughout the UK. Owner operated MP Locums cover all specialties and, where appropriate, sub specialties of Surgery, General Medicine, Emergency Medicine, Pathology, Anaesthetics, Paediatrics Obstetrics and Gynaecology, psychiatry, accident and emergency, Elderly Care and Trauma and Orthopaedics.
The company was incorporated in June 2008 and its aim is to be recognised and respected as a leader in the delivery of high quality locum services to NHS Hospitals, GP Surgeries, Health Centres, Out of Hour Providers, Private Healthcare Providers and Prisons.
Falkirk

Sunny

High: 12°C | Low: 0°C

Stirling

Sunny

High: 12°C | Low: 0°C

Alloa

Sunny

High: 12°C | Low: 2°C
The Time Traveller

6:00am - 8:00am

Two more hours, two more years and one more Andrew Morley!

Miller Madness!

8:00am - 11:00am

Three hours of uplifting music and chat with Ryan Miller, including the world famous Battle of the Divas.